Sanctband Exercise Tubing 1,4 m with handles + door anchor
color - resistance / lengh:
#S 045
✓ Available
✗ Not available
Description:
PLUM - EXTRA heavy resistive
The Sanctband resistive exercise tubing is produced with a multi dipping latex manufacturing technology causing the product to consist out of many latex-layers. That's why the Sanctband tubings are characterized by their excellent elongation-capacity and outstanding breakage-resistance.
The comfortable handles, covered with foam, are firmly connected to the tubing, so as it feels extra safe without any slipping. Thanks to the included door anchor exercises, which usually can't be performed alone or without a wall bar, can now be easily performed at home. The attached door anchor makes any door a training station for a variety of total body fitness and strength exercises. The tubings are extremely durable and resistant.
In addition to therapy and rehabilitation, they are used also especially in fitness and strength sports. With the tubings of Sanctband in 6 different resistance strengths there are great possibilities for exercises, from medical training therapy to home-based fitness training.
High quality tubings with multi dipping latex manufacturing technology
Excellent elongation properties and wear resistance
Separate tubing, 1,4m, with handles and door anchor
Suitable for therapy, rehabilitation and fitness training
Simple in use
Handles covered with foam for safe and comfortable use
Details:
Widely used for physiotherapy, rehabilitation, fitness and strength training.
Simple and straightforward in use
Low powder / pleasant to use
Reducing of the natural adhesive latex protein
Reduction of the allergenic potential (hypoallergenic)
Certified product safety through a lot of test reports and certifications (TÜV-GS)
Long lasting usage
Manufactured with Eco-Friendliness (made of the complete biologically degradable natural latex)
Recommended items: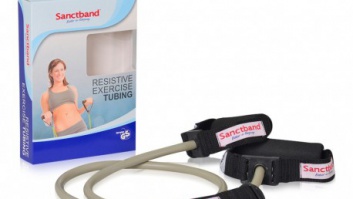 Sanctband Exercise Tubing 1,4 m with handles + door anchor